Choosing the right material for outdoor furniture requires investigation and education. You must understand how materials compare in terms of price, durability, and, of course, appearance. Outdoor furniture is produced from a variety of materials, each with its own set of advantages and disadvantages. A few key areas must be considered while deciding on the best patio furniture material for your property. Important factors to consider when purchasing wicker patio furniture.
Appearance
Sustainability
Flexibility for Meteorological Conditions
Material Varieties
The article below will show you the material varieties used in the making of patio furniture. It'll give you the essential points and a brief overview of each item.
 Synthetic Resin
People frequently mix up synthetic resin wicker furniture with "rattan." Synthetic resin patio furniture, which is often woven in a wicker weave, is elegant, low-maintenance, lightweight, and extremely durable. One of the greatest materials for outdoor furniture is a synthetic resin. Always choose High-Density Polyethylene (HDPE) wicker rather than low-cost PVC wicker. Synthetic PVC will unravel, brittle, and break. HDPE is considerably better quality material. If you've heard of terrible synthetic resin experiences, it's most likely because the furniture was manufactured of low-quality PVC plastic. Synthetic resin wicker is lightweight and simple to maintain.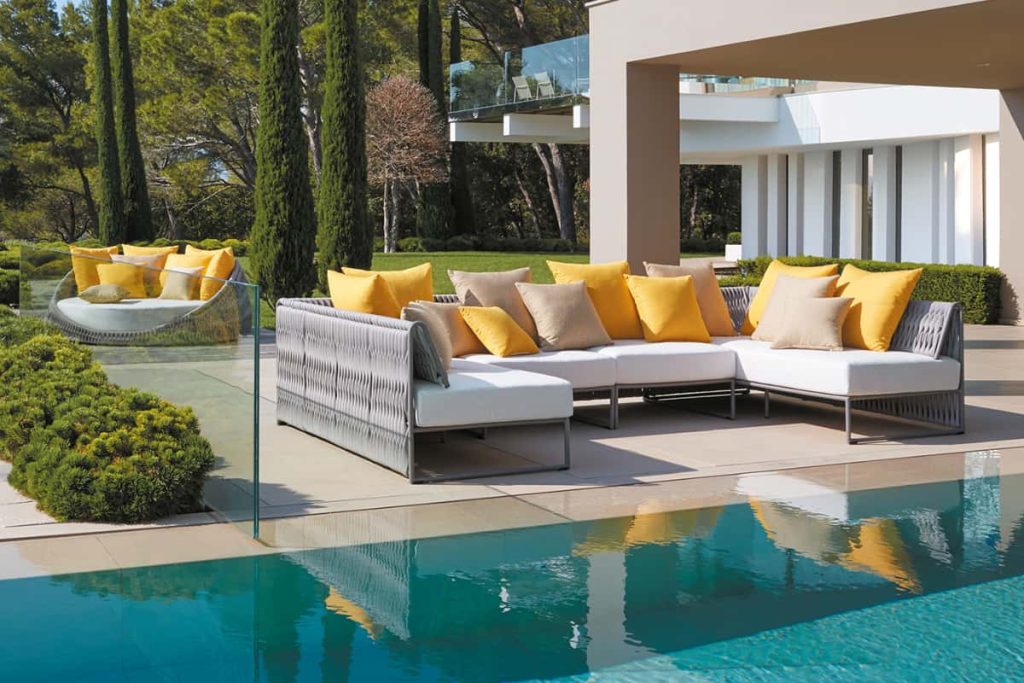 Teak: 
Without a doubt, teak is the greatest wood for wicker patio furniture. It's well-known for its all-weather qualities, robustness, and lovely grained finish. It generates its oil, which distinguishes it from other types of naturally occurring woods. It's also hardwood, so the surface is quite durable. There will be no knocks or dents in it. In comparison to other timbers that must be preserved in the winter, such as pine or cedar, teak may survive up to 50 years. Teak creates an excellent outdoor dining surface or armrests for outdoor chairs. It isn't as light as aluminum patio furniture, but it's still quite movable and has a larger load capacity.
Rattan and wicker
Wicker and rattan outdoor furniture, a close second to wood in popularity, provide your outdoor space a traditional rural or beach-style aesthetic – as long as you keep it covered. These natural materials, as well as related choices like bamboo and natural grasses, cannot withstand prolonged sun and rain exposure. If you wish to transfer your wicker furniture to a more exposed outside position in the summer, treat it with a wood furniture sealer or marine varnish test in an inconspicuous region first to ensure you like the results or tung oil to help protect it. Another alternative is to paint the surface and then protect it with marine varnish.
Aluminum
Aluminum is at the top of the list when it comes to easy-care furniture. It's strong enough to withstand practically everything Mother Nature can throw at it, yet it takes almost little upkeep. It's also less expensive than a lot of other alternatives. Hollow or tubular aluminum furniture is lighter and less costly than cast aluminum furniture, and it often has more design choices. Cast aluminum, which is stronger and more costly, is also more conventional in appearance.